Customer Reviews
01/20/2021
Thomas A.

United States
Great glasses, great customer service.
Love the Radman. That also have great customer service should you have an issue.
12/21/2020
Dan W.

United States
stylish and sturdy. Protects eyes well while having great clarity
Comfortable, stylish sunglasses. Stays in place even with strenuous activity, yet doesn't feel tight. Clarity is incredible and sun protection excellent.
12/09/2020
J. D. Hill

United States
Bulky and cheap
These sunglasses are bulky and cheap. The leans has already fallen out twice. And I have only worn them a few times.
10/08/2020
Jamie L.

United States
Great glasses
Bought these glasses for my dad and he is really enjoying wearing them. Stylish and great lenses.
10/05/2020
Jose C.

United States
Great product
These have been my 5 pair and I'll keep buying. I've traded my Costa del Mar for Abaco and won't go back. I have all Radman shades and wanted another just because. Your customer service is superb. Thanks Greg and everyone.
08/17/2020
James D.

United States
Great pair of sunglasses ️
Outstanding online and customer service.
08/05/2020
Evan M.

United States
Fantastic company
I have very much Enjoyed the quality and the functionality of these shades. Best lake day sunglasses I have ever had, have told my friends all about Abaco. Warranty program is a huge stand out for me, unbelievably....awesome!! Will be a lifetime customer!
08/04/2020
dedra b.

United States
Awesome
Love the glasses. They arrived quickly and looked better than in the picture. Love the lifetime warranty.
07/22/2020
Thomas A.

United States
Great customer service
Excellent customer service and warranty.
07/14/2020
Belinda C.

United States
Love the Radman's
Bought the Radman for my husband. He loves them! Excellent service, quickly shipped. Will definitely buy more!
07/06/2020
Michael B.

United States
Great sunglasses and GREAT service!
I like these very much. I like that they wrap around some. I use them for driving, yard work, golf or anything I'm doing outside in the sun.
06/16/2020
Darin O.

United States
Sunglasses review
Had these sunglasses for about a week and a half now and so far its been a great experience. I am a bigger guy with a large melon. And always have sunglasses break on me by the temple piece or the frame. So far the fit feels really good and no breakage yet. They also look great on me. And i have the piece of mind that if they do break that they are warranted and will be replaced. Thanks Abaco!!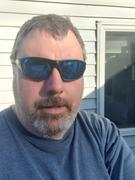 06/15/2020
Fallon D.

United States
Birthday gift
Amazing. I ordered purchased item had it in two days .
05/09/2020
Lance M.

United States
Great Choice!
Speedy delivery, well made and terrific fit! I will order again.
01/01/2020
Angelo F.

United States
Sunglasses review
Great, light weight so I can use them longer
12/25/2019
Norma G.

United States
Abaco glasses
Love Abaco sunglasses! This was a purchase for my teenage granddaughter. I accidentally hit the all tortoise button when ordering. I sent them an email right away and called the next morning . The best customer service I have ever had. The gentleman said he got my email and sent it to shipping to make sure I got the right glasses . I told him I wanted the light bamboo sides. He asked me to send him a picture of the glasses I currently have and I want for my granddaughter. I did and he had me wait in the phone until he saw them . He said there were any Luke those in stock but they would make a pair for her and send them right out. He did and I got them right away. As a result she had a good Christmas. I can't say enough about this company . Best customer service and wonderful glasses with lifetime warranty.