Customer Reviews
12/01/2020
Erica C.
United States
Another quality sunglass to add to my collection
Love the style and design of these. Get lots of compliments too!
11/17/2020
Molly W.
United States
I feel so cool!
Awesome! I am 45 but feel 25 when I am wearing these. The rose gold is super cool!
10/21/2020
Michelle L.
United States
Beautiful, sturdy glasses
These glasses are beautiful, fit well, & are sturdy. The lens are very clear.
10/17/2020
Julie C.
United States
LOVE my Piper sunglasses
Excellent!!! Piper glasses were on back order, but as soon as they came back in stock I ordered immediately!
10/14/2020
Laura M.
United States
Great quality!
Great customer service and guarantee!!
07/09/2020
Adrienne P.
United States
Awesome sunglasses!
I love my Piper sunglasses! The company's lifetime warranty is amazing. My first pair had a slight flaw. I entered my watt entry claim on their website and a new pair was shipped to me right away. Such a great company! I highly recommend purchasing your future sun glasses from them.
06/22/2020
Salina B.
United States
Totally adorable and functional
I love the colors and the style they look great with my face shape. They are dark with out making it to dark to enjoy being outside with them. They enhance the colors of most everything. Including reducing the glare on the top of water. Helped to see fish underneath the surface more easily. When compared to my boyfriends fishing glasses they were pretty close in quality. Though it sometimes makes the tiny on other cars a bit rainbow colored. But its nothing that would cause a distraction. It's just pretty lol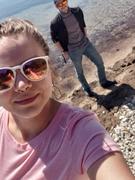 06/18/2020
Roxy V.
United States
Best Sunglasses Ever!
Love the beautiful white and the rose gold lens! Amazing Glasses and they look really nice and classy! Thanks Abaco!
06/15/2020
Claire .
United States
Great glasses
I love my new glasses and they are very crisp!
06/02/2020
Christina B.
United States
great! my glasses broke the
great! my glasses broke the new ones came so quickly and the whole claim process was so easy! really happing with this company, you guys are amazing!
Warranty
I purchased my first pair and unfortunately within a few days noticed the lenses starting to peel... Thankful for the lifetime warranty I logged onto the website and received a new pair in the mail very quickly! They seemed to be doing well and I have not noticed any issues. Overall great customer service experience and love the look and quality for a reasonable price!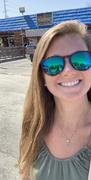 Great Gift & Product
I received my first pair of Abaco as a gift, so I can't comment on the price; however, pricing seems very fair considering the product. I love the lifetime warranty and cute little storage bag that comes included. I cannot wait to purchase more fun styles and colors!
New favorite brand!!!
I wear them daily. Ditched my Costa's for abaco. Love em!!!!
Great sunglasses!
Wonderful, these sunglasses are one of a kind!