Customer Reviews
Write a Review
Ask a Question
08/29/2023
Erin M.

United States
don't fit my face
sadly my cheeks are too big & the glasses tilt inward, so they hit my cheeks. I had to return them. In order to return you need to send a reason that has to be reviewed before it's ok to return them. I'm not sure why but I had to wait a few days before I could return them. I will stick to brick & mortar stores, because this isn't very convenient.
07/24/2023
Anonymous

United States
Happy customer
Fabulous!!! Glasses are very stylish, lightweight, and do not pull my hair when on top of my head.
07/12/2023
MONA R.

United States
Great
Hi, these are really great sunglasses. High quality lenses. Wearing them paddleboarding. Cut the glare, clear vision. Look cool and super comfortable. Very happy with my purchase
07/12/2023
Bianca R.

United States
Ugh
Purchased at a boat show because you were local. I submitted for a warranty claim and had to mail them to GA. Fine. The replacement does not fit and is crooked and in order to get it fixed again I have to mail again to GA! Forget it. I'm cutting my losses and moving on.
07/12/2023
McKinley N.

United States
New shades
I always love my Abaco glasses
07/08/2023
Kayla L.

United States
Abaco warranty
I had a wonderful experience when getting my second pair of abaco piper glasses. The process was easy to get my warranty pair. This has been one of the best investments for me considering how hard I am on my sunglasses.
05/24/2023
Veronica N.

United States
Purchase of Abaco
Excellent! I would definitely recommend this company to anyone
05/23/2023
vickie k.

United States
Love the Piper
I absolutely love the look of these sunglasses. I have several colors. They do a good job of blocking the sun. My only critique is that they are wide and not adjustable. They do not stay on your head well if you push them up while indoors.
05/04/2023
Linda R.

United States
Great glasses- and great service!
Fabulous ! I love the glasses- and this company stands behind their warranty!! I couldn't be happier- and I rarely go without sunglasses. Protect your eyes- wear good sunglasses
03/29/2023
Natasha T.

United States
Love them
I purchased a pair when I was in the Florida keys, fell IN LOVE with them and unfortunately got into a car a week after and they got damaged. Went through the warranty program and got sent a brand new pair within a couple days. They're still my favorite pair of sunglasses
03/03/2023
Regina C.

United States
Love these!
Wonderful! Great sunglasses at a great price with a fabulous warranty!
03/02/2023
Sharon W.

United States
Awesome glasses and price
Customer service and warranty is the best!
02/03/2023
Anonymous

United States
Sunglasses
I just love my new glasses! It was great to try them on and get feedback as to size,color and fit. I highly recommend checking out this place!!!
01/09/2023
Roberta A.

United States
Excellent
Love them, would recommend
01/05/2023
Earl F.

United States
Blue light glasses
She love the Blue light glasses, she recommend everyone should have it.
11/18/2022
Teresa C.

United States
Fantastic sunglasses!
I love these sunglasses so much that I bought my mom a pair. Great quality and price point! Bonus is the warranty which backs up how high the quality is when they are willing to stand behind their product. Online ordering was very easy and quick delivery. 100% satisfied customer!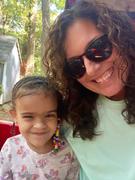 Free Shipping Over $75 + Free Returns