Customer Reviews
Write a Review
Ask a Question
09/26/2023
Russ M.

United States
They do not even fit that well at all
They are so loose. They barely stay on my head.
09/28/2023
Abaco Polarized
Hello Russ, I'm Jeanine from Abaco Polarized customer service and I'm contacting you regarding your recent review. Sorry to hear the product did not match your expectations. Did you know about our perfect pair guarantee? We'd be happy to exchange the product for a different one of your choosing. If you have an alternative in mind you can go ahead and let us know for us to proceed with the exchange. I'd also be happy to recommend some alternatives to choose from if you'd like, just let me know. Thank you, Jeanine Customer Service Abaco Polarized
09/20/2023
John G.

United States
Sunglasses
Excellent service and very friendly, love their guarantee. Will for sure get more of this product. Played golf with these and they were very clear.
09/06/2023
Ryan Y.

United States
Abaco
Great! Love the Docksides and great service.
08/30/2023
Rosa Z.

United States
Very
Very happy with the service
08/08/2023
Jason P.

United States
Warranty and lens coating
Let me start by saying I like the look and would possibly purchase a different pair but unfortunately I'm on my 3rd pair in a short amount of time. I use the cleaning cloth when cleaning glasses but the lens coating still comes off. I will say their warranty is great but I have paid as much for 3 shipping and handling for warranty I could have purchased another pair. I understand things happen but if this happens with my recent pair i will not be paying $14 again to replace I would just purchase another brand of glasses. The way they handle warranties is great and the reason for an extra star on the rating.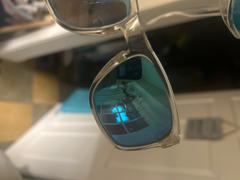 08/07/2023
Paul R.

United States
excellent service!
great, they replaced my glasses with some photos I sent to them.
07/27/2023
Andy G.

United States
They look great but the fit is off
I love aback glasses, I have three pairs. This pair, is probably my least favorite because they are always sliding down. The other two for perfectly.
07/27/2023
Kathi R.

United States
Love my Dockside!
My favorite sunglasses ever!
07/20/2023
Tom L.

United States
Really Like these Glasses
I find the Dockside glasses to be very clear and fit great. These are one of the most comfortable pair of sun glasses I've worn. I would buy again.
06/30/2023
Alex R.

United States
Phenomenal
Phenomenal I use them everyday! I love them.
06/26/2023
Cory S.

United States
Warranty replace
Great. Good product. Are y'all ever hiring for sales reps?
06/22/2023
Paul N.

United States
Great product service/support
I contacted Abaco with an issue on my lenses, sent pictures, and was promptly contacted. Although they did not have the same exact frames I was able to choose these as a replacement. They were shipped quickly and I was very satisfied with the whole process.
06/21/2023
Kimberly E.

United States
Father's Day gift
He loved them. Wore them out fishing and no issues. Like the style.
06/07/2023
Anonymous

United States
Great shades!
Great shades! Can't beat the price and quality. AWESOME customer service at the Oconee store.
05/31/2023
Tom A.

United States
Third pair of Abaco's
I buy multiple pairs when I find something I like for fit & function. One for home, cat and boat. Thx for a great affordable product! Tom A. Cincinnati, Ohio & Lake Erie
05/24/2023
Al G.

United States
First pair of Abaco
Great, nice fit and look to the frame, very good lenses!
Free Shipping Over $75 + Free Returns