Customer Reviews
Write a Review
Ask a Question
What I'd expect for the price
Not sure what I was expecting. The frames seem nice. They came with a cleaning cloth which was great. Shipping was super fast. They are nice and light. Look good. My only complaint, and I guess its a big one, the lens' are super distorted. I can't wear them at all, they give me a massive headache. Its like wearing the wrong prescription glasses. Not great.
06/14/2022
Kaylee M.

United States
AMAZING
I bought these for my boyfriend, who never spent any money on a decent pair of sunglasses. He had a cheap $10 pair from the dollar store. I let him try on my first pair I bought and he was amazed at how clear it was. I told him that's because the sunglasses are polarized and protect your eyes from the suns harmful rays and allow you to see better while wearing the glasses. He was positive that a polarized pair of high quality, like Abaco, would easily be $150 minimum. When I surprised him with his Dockside Abacos, he was in shock. When I told him they only cost $60 and come with a lifetime warranty, he said he will forever only buy Abaco. Shortly after receiving the pair, he went up to New York with his family for vacation, where they fished on a lake. He was the only person with polarized sunglasses and said he could see the fish, while his other family members couldn't see anything. His whole family is buying pairs soon too! WE LOVE ABACO'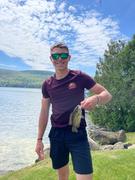 05/31/2022
Joseph C.

United States
Joe c review
I really like the glasses. They are an excellent product and value for the price
05/25/2022
Anthony S.

United States
My 4th pair
Nuff said................... ..
05/12/2022
James H.

United States
Great Product/Great Service
This is the 10th pair of Abaco sunglasses I've purchased, either for myself or my family. This pair of Dockside's is a replacement, as I sat on and broke the originals, but Abaco replaced them with no questions asked. Great Company
05/10/2022
Tyler H.

United States
Awesome Shades
Easy. Awesome product. Clarity is as good as any other brand and at a better price point.
04/30/2022
Randall A.

Dominican Republic
Really Good quality!
Great quality, and very fashionable!
04/29/2022
Thomas O.

United States
Awesome
Love these glasses
04/19/2022
Stephen S.

United States
CDT Thru hike!
Amazing in the New Mexico desert sun!
04/13/2022
scott p.

United States
Good Stuff!
lightweight, comfortable and good coverage
03/31/2022
Pamela G.

United States
Men's Dockside Sunglasses
Nice product. Great customer service.
03/13/2022
Steven D.

United States
Prescription sunglasses
I already own regular ABACO sun glasses and knew what the prescription sunglasses would look like on me. So there was no risk that I wouldn't like them. The process was simple and only took a little over a week to get them in the mail. When they arrived I got exactly what I was expecting, no surprises.
12/27/2021
Bryan B.

United States
12/21/2021
Chris W.

United States
My new glasses
I usually get a few pairs of sunglasses a year and spend a fortune. My Abacos are are probably the best sunglasses I have ever purchased. Quality, fit, price and a great warranty. I liked my glasses so much that I bought a few pairs to give as Christmas gifts.
12/15/2021
James H.

United States
Don't buy any other brand!!!
This is the 9th pair of your sunglasses I've purchased either for myself or my family. Every pair is unique and stylish. I love doing business with Abaco. The customer service with Victor and Alex at your Palm Beach Gardens Florida store is the best.
11/04/2021
Mary L.

United States
Love my glasses and the warranty!
Excellent service!