Customer Reviews
02/19/2021
Dale V.

United States
Awesome product and awesome customer service!
Exceeded expectation on all fronts.
02/11/2021
Lisa T.

United States
I love your Company
I believe a company is more than just their product. I believe it is about who owns and works at the company. You are all amazing...and I really love your glasses too.
01/04/2021
susan t.

United States
excellent!
Love both pairs of sunglasses. Great quality and style!
12/30/2020
Jean R.

United States
Great warranty
The ear piece broke. I sent a picture to Abacoand had a new pair within three days! Unbelievable!
11/18/2020
Brian M.

United States
Pretty good!
They're good. A little stiff, if that makes sense. And they seem to be oh-so-tiniest-bit-crooked when I wear them. Nothing too crazy but noticeable. Other than that, I like them.
10/17/2020
John W.

United States
my 1st Abaco
This was my first pair of Abaco sunglasses. Friends of ours from Florida were visiting and I had to know where they got their sunglasses. Love them so far. They are very lightweight and the polarization is great. This will definitely not be my only pair!
10/14/2020
Jim M.

United States
Great Sunglasses
The Abaco sunglasses are excellent quality like my other two pairs I own. You can't go wrong buying Abaco sunglasses! Great warranty plan included.
07/17/2020
Heather D.

United States
Great glasses
I am petite so it was important to find glasses that were comfortable on my smaller face. These glasses are great. They did not slip down my nose at the beach or pinch the sides of my head. The tint and polarization on these was perfect for the reflection off the water and sand. AND I think they look great on me, I had some compliments . These were replacement glasses for a previous pair. The Abaco warranty is definitely something I would recommend to friends and family.
06/23/2020
Armando R.

United States
Buena calidad lente muy buena visibilidad
Muy buen lente cómodas al utilizar
06/19/2020
Taylor M.

United States
Love my Abaco sunglasses!
This is my third pair- I love them that much and my husband has two pairs! I am a kayak and SUP guide on the Florida springs. The polarization on their glasses enable me to see some cool things in the water that I can share with guests on tour. They fit my face perfectly so I don't have to worry about them slipping into the water, this has been a huge problem for me in the past. Will always highly recommend Abaco! Thank you for some stellar shades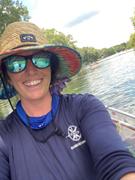 04/22/2020
pat c.

United States
Amazing Service, Fantastic Price
For the price, these are some of the best polarized sun glasses I have ever bought and best of all...the company stands behind their warranty. I had an issue with my only 3 days after purchase and they company took care of it without any hassle. I will be buying from them again.
Review
Staff was helpful. A good product at a reasonable price.
New Purchase
The Glasses are great . My Wife loves them and we will be buying more .
01/27/2020
Jackie M.

United States
Kia frame
Great quality but I'm not crazy about the style on me. I would like to refer a friend. Is there a referral discount?
Local Shopper
Excellent experience, great services and convenient.
01/17/2020
Amanda S.

United States
Excellent
The people at albaco where able to find a pair of glasses that work excellently for my photophobia and low vision.