Customer Reviews
01/04/2021
amy s.
United States
Awesome sunglasses
As always, it's super easy purchasing sunglasses online. Great prices, great quality.
12/01/2020
Erica C.
United States
Love these!
Great product... such high quality and love the style!
11/30/2020
Cara B.
United States
Love my Kateye Sunglasse!
Wonderful - this is my second pair - I love them!
perscription sunglasses
I was wondering if my glasses were ready
02/05/2020
cynthia b.
United States
Great glasses/ great company
Love my Abaco glasses and customer service is great!! I have recommended them to several friends.
01/14/2020
Natasha G.
United States
LOVE, LOVE, LOVE
I happened across these sunglasses at a marina store and fell in love. Did some research when we got home and made the purchase! So happy I bought these! I haven't seen anyone else with these, which I LOVE! ;)
11/27/2019
Chelsey D.
United States
Replacement
Excellent customer service. Super helpful and easy to work with.
11/06/2019
Albert D.
United States
Excellent service
These are high quality sunglasses and their customer service is Excellent!
08/07/2019
Steven B.
United States
Good Polarized Shades
I have been looking for more of a budget polarized lens for awhile. I stumbled upon Abaco at a mall and ended up buying a pair a few months later online. Could not be more satisfied. They are excellent quality for a great price.
07/25/2019
Lisa G.
United States
Awesome
Love these sunglasses! This pair was actually a warranty replacement which was so simple to complete. Very comfortable. I had to pick a pair out without trying any on and I am very pleased with these. These should work for most people. Thank you for making my warranty claim simple.
06/17/2019
Amy S.
United States
Great quality, great price
Light weight, great lenses, and fast shipping all at a great price. Will definitely order agin.
06/04/2019
Rebecca K.
United States
Excellent Style and Function!
These glasses look great, feel great and the polarization is exceptional. I feel like they are better than the glasses I have been paying $300 for.
Stress Free Warranty
I didn't believe the lifetime warranty claim when I bought my Abaco sunglasses but when the lens kept popping out of one side and I made my claim, a replacement pair was delivered within days. No hassles! So not only am I in love with Abaco because they are beautiful to look at, but also because they have beautiful customer service! Thank you!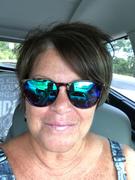 Love these glasses!
This are great glasses. Cannot go wrong with this choice! Love the lightweight material used. The fact they are polarized is a great feature! They look great. Also love how they are very simplistic yet fashionable.
Great quality for reasonable price
My parents bought Costas for the boat because they were polarized and I really wanted a pair but I didn't want to spend that much money on a pair of glasses I might lose in the ocean. I was in downtown Stuart shopping one day and saw Abacos in a sunglass shop. I was shocked that they were only $60 for a pair of polarized glasses!! So I bought them and I've been loving them since. Also, they're soooo much cuter than the Costas my parents bought
Wow!
Okay, on a whim I ordered a pair of Abacos for my husband and one for myself. We typically buy Maui Jim or something comparable. I am blown away by the style, the comfort, and especially the glare control. These glasses rate just as high as those costing much more. Add the fast shipping and lifetime warranty, now you have Abaco Polarized customers for life!