Customer Reviews
Write a Review
Ask a Question
03/03/2023
Regina C.

United States
Love these!
Wonderful! Great sunglasses at a great price with a fabulous warranty!
03/02/2023
Sharon W.

United States
Awesome glasses and price
Customer service and warranty is the best!
02/03/2023
Anonymous

United States
Sunglasses
I just love my new glasses! It was great to try them on and get feedback as to size,color and fit. I highly recommend checking out this place!!!
01/09/2023
Roberta A.

United States
Excellent
Love them, would recommend
01/05/2023
Earl F.

United States
Blue light glasses
She love the Blue light glasses, she recommend everyone should have it.
11/18/2022
Teresa C.

United States
Fantastic sunglasses!
I love these sunglasses so much that I bought my mom a pair. Great quality and price point! Bonus is the warranty which backs up how high the quality is when they are willing to stand behind their product. Online ordering was very easy and quick delivery. 100% satisfied customer!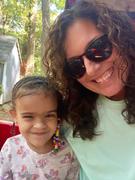 11/14/2022
Sarah T.

United States
Piper is my favorite pair of sunglasses!
They are great! They are light weight and fit prefectly. They have crisp and clear lens. I love the color combos they come in!
10/09/2022
Cindy C.

United States
Love!
I love them. Really helps when I'm at recess duty everyday with all the glaring concrete. They look good, too!
09/24/2022
rick w.

United States
Great Style!
Abaco is always the best at honoring warranty claims. This pair replaced another that is no longer in stock, and I think I like these even better!
09/11/2022
Cyntia P.

United States
Great sunglasses!
Very enjoyable buying experience!
09/07/2022
Heather R.

United States
Love Piper!
I have this style in three pairs and love them all. Super comfortable, love that they are polarized.
09/01/2022
Susan D.

United States
Piper Abacos
Excellent sunglasses.
08/28/2022
Brian C.

United States
A++
Great product as always. Wish shipping was faster, but it was worth the wait.
08/24/2022
vickie k.

United States
I love these enough I have 4 Pipers!
I love the style and sunblock ability of these sunglasses. I own four pairs of Pipers. My only criticism is that they are not quite tight enough if you place them on top your head as we all do. The seem stretched out and I've only worn them once.
08/23/2022
Petra H.

United States
Abaco Piper
Great glasses. Love them. Good quality. Good price. Quick delivery. Overall a great experience.
08/16/2022
Linda E.

United States
Perfect!
Overall great sunglasses. The earpieces are thin enough to fit on my ears with my hearing aids.