Customer Reviews
Write a Review
Ask a Question
Replacement glasses
I am overly impressed with customer service and timely fashion in which my glasses were replaced! Even though my original glasses were no longer available, I love my new pair just as much! Highly recommend this company.
07/26/2022
Jun B.

United States
Awesome sunnies
I bought a pair of sunnies of this brand at a store on vacation but lost them. Gutted. Lucky I remembered the brand name and found them online. The quality is absolutely superb! This pair actually fits me better. Hope other color ways are back in stock soon. Definitely buying more.
07/21/2022
MALLORY S.

United States
Excellent
Wonderful service and glasses!
07/21/2022
Marla M.

United States
Love my Abaco sunglasses
I have to say their staff is extremely perfessionaland accommodating
07/05/2022
Austin P.

United States
Good stuff
Great shades, even better service team. Thanks!
07/02/2022
Chris H.

United States
Great glasses
I really like the submission of claim process. Glasses and components will wear out over time and it's great know a replacement pair will be coming in 7 to 10 days. Thank you for your product.
06/29/2022
Rich L.

United States
Issue is still there
This item was a warranty replacement because the ones I had purchased originally there is a discoloration that will not go away on the lens. My first purchase both of the lenses had the discoloration I applied for the replacement pair and when I received them one of the lenses is fine but the discoloration is still there on the other. It appears to be an issue that you all are having with the fire or reddish orange polarized lenses in these particular glasses since I've now got two pairs with the same issue... I'd like to return them and get a pair that does not have this discoloration I don't know if receiving the same frame just with a different color lens is an option to try and avoid any further issue. I have not submitted the claim online just yet but decided to reply to this email asking me for a review...
06/14/2022
Amanda M.

United States
Better than Costa!
I'm so happy I found these sunglasses! I've only had costa's and have been so frustrated and disappointed in them for never fitting properly (either too wide or too tight), spent $300+ on a new pair recently and they don't even stay on your face if you look down or sweat at all. I was walking around Savannah on a hot day with my Costas falling off my face every few seconds I stumbled into a local shop and found Abaco sunglasses, tried on a few and have LOVED these Jesse frames!! I've fished offshore in them and they never budged off my face and are so light I hardly realize I'm wearing anything. Will definitely be purchasing more frame styles in the future!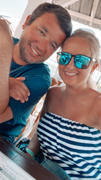 06/07/2022
Chad H.

United States
Replacement pair
I loved my original Jesse sunglasses. The plastic piece holding the screw in the arm broke so I needed to order a replacement pair. My original color was no longer available so I ordered a different style, and like them equally as well. Thank you.
06/06/2022
Cameron S.

United States
Great glasses
Love the style and performance of these glasses!!! Not the toughest glasses but there really comfortable. I've already broken my second pair and had them for a week. Probably just buy another pair again…..
05/28/2022
Patryk M.

United States
The Best blessed bar non
Great pair very hight quality.i no Longe but Costa
05/24/2022
Simy C.

United States
Great, great, great!
This is my second time ordering from Abaco and must say I'm super impressed with the quality, customer service, and shipping speed. I love my Jesse sunglasses! They're comfortable both on the face and if on my head and the polarized lens are great! Thanks for such a quality product!
04/26/2022
Jason V.

United States
New glasses
Response time was great , received my new pair of glasses very quickly. This was a very simple process.
04/25/2022
Braden S.

United States
Jesse
I've had 3 pair of Jesse sunglasses now. All 3 have been different. Unfortunately the first pair I purchased were my favorite but now live at the bottom of the ocean. I bought a second pair and when they showed up the paint was peeling and they didn't match the product online or the first pair I had even though I ordered the same. The paint begin to further peel and I made a warranty claim. Very appreciative of the third pair that followed but still doesn't match what is advertised online.
04/24/2022
Brandon D.

United States
Great service and product.
Great. Plan to get another pair very soon.
04/18/2022
Jessica C.

United States
Love them
Excellent product. Very happy with my purchase.