Customer Reviews
Write a Review
Ask a Question
5 stars
Great product especially for the money they're just as good as my higher end sunglasses and there was an issue and they reimbursed me with Brand new ones no questions asked
08/23/2022
Elizabeth U.

United States
Awesome Dockside Sunglasses
Purchased these sunglasses for my husband and he is very happy with the product. I personally own several Abaco's and I too are very content with them. Highly recommend them. Yours truly Happy Customers ;) P/S: excellent customer service when needed to reach out.
08/09/2022
BETTY H.

United States
Great sungleasses
These glasses are great. This is my second pair.
08/05/2022
Cory S.

United States
Great product
This is a company I want to support. Median price and great quality
08/01/2022
Derek B.

United States
Dockside - perfect for hiking in windy locales
My interest in Abaco derived from their mission of selling high-quality sunglasses that protect your eyes essentially and their great warranty! The Dockside lens were some of the best lens for natural colors. I have problems with dry eyes, so I look to find sunglasses that cover my eyes in the wind, which these did perfectly. They feel well built and are comfortable to wear. Very happy with the purchase and quality.
07/28/2022
Corey E.

United States
Great Customer Service
Used my lifetime warranty and service was super quick. Super nice people!
07/26/2022
Edwin R.

United States
great purchase
fits great & looks great i've been asked several times where these were purchased
07/21/2022
Frank J.

United States
Dockside
Frame of the glasses was much smaller than expected. Granted I have a large head but most medium glasses work OK. Abacodescribed the glasses as medium but they are much smaller frames that I get from other sunglass companies.
07/21/2022
Abbie F.

United States
Awesome
My 15 yr old son loves ❤️
07/19/2022
Michael H.

United States
Great everyday wear
For the price how could you beat it! I always love buying sunglasses from American business, abaco always seems to amaze me. This pair is a very nice every day wear. I have thought about buying Costas but I couldn't imagine paying 4x the price just for something with a bigger name.
07/19/2022
Joseph P.

United States
Great pair of sunglasses
Easy ordering, timely delivery, and good product
07/08/2022
roger f.

United States
Good glasses
Fast reliable great price and so far great crisp clear and easy to clean glasses and I normally don't spend that much on glassesbut glad I did this time
07/07/2022
Michael D.

United States
Clear View
These sunglasses are impressive. Not only are they great for sunny days on and off the beach they are great for fishing as well. They allow you to easily see the fish in the water. Great sunglasses!
06/16/2022
Ryan B.

United States
What I'd expect for the price
Not sure what I was expecting. The frames seem nice. They came with a cleaning cloth which was great. Shipping was super fast. They are nice and light. Look good. My only complaint, and I guess its a big one, the lens' are super distorted. I can't wear them at all, they give me a massive headache. Its like wearing the wrong prescription glasses. Not great.
06/14/2022
Kaylee M.

United States
AMAZING
I bought these for my boyfriend, who never spent any money on a decent pair of sunglasses. He had a cheap $10 pair from the dollar store. I let him try on my first pair I bought and he was amazed at how clear it was. I told him that's because the sunglasses are polarized and protect your eyes from the suns harmful rays and allow you to see better while wearing the glasses. He was positive that a polarized pair of high quality, like Abaco, would easily be $150 minimum. When I surprised him with his Dockside Abacos, he was in shock. When I told him they only cost $60 and come with a lifetime warranty, he said he will forever only buy Abaco. Shortly after receiving the pair, he went up to New York with his family for vacation, where they fished on a lake. He was the only person with polarized sunglasses and said he could see the fish, while his other family members couldn't see anything. His whole family is buying pairs soon too! WE LOVE ABACO'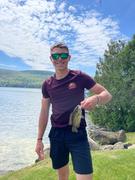 05/31/2022
Joseph C.

United States
Joe c review
I really like the glasses. They are an excellent product and value for the price