Customer Reviews
Write a Review
Ask a Question
Favorite pair of sunglasses I've ever worn
Customer service is amazing. These are my absolute favorite pair of sunglasses I've ever owned.
07/06/2022
Andrea S.

United States
Polished look
Love them!!! Brought them on my trip to the Hamptons. The Ella style sunglasses are both sophisticated and comfortable.
06/26/2022
Angela U.

United States
03/14/2022
Bri S.

United States
Amazing Customer Service and Product!
My glasses were damaged by a careless individual and Abaco customer service helped me with my warranty issue. I'm actually still shocked how much this person helped me. I've never had customer service on this level. I've purchased countless high end brands of glasses and nothing has compared to the Abaco customer service! Now for the glasses, they are amazing! You get a high end quality product for a fraction of the price! The glasses are made well, sturdy and durable. These are my go to glasses for everything from travel base ball, vacation to just all around everyday. Don't sleep on this brand because it's worth the purchase.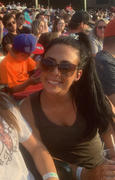 02/28/2022
Danielle B.

United States
Love!
So happy with the Abaco Ella sunglasses that I bought two! Love the lightweight frames and the clarity of the lenses. Would definitely recommend.
02/17/2022
Ivette B.

United States
02/17/2022
Heather P.

United States
02/10/2022
Tiffany N.

United States
Recommend
Wonderful experience I would recommend
02/04/2022
Ceileigh S.

United States
Best Sunglasses!
My favorite style! And super quick shipping
12/20/2021
Patrice H.

United States
Excellent Sunglasses
Thank you for such an excellent pair of sunglasses. These are my "go to" sunglasses
12/13/2021
Michelle P.

United States
Beautiful Designer Glasses!
I get so many compliments on my Abacos! I absolutely love them!
11/09/2021
HOlly H.

United States
Ella glasses
Love these sunglasses. Customer service is amazing too. Would purchase from you again!
09/29/2021
Paige H.

United States
Awesome Glasses
I get compliments on these almost every time I wear them. Love love love these glasses and the polarized lens are really nice on them. The lifetime warranty is just the icing on the cake.
09/08/2021
Sue B.

United States
Great customer service
I love my Abaco Ella sunglasses but had some issues with lens scratching. I had registered them when purchased and had no problem ordering a replacement pair - just for the cost of shipping. Great customer service! I have two other pair of Abaco sunglasses and love them all. I highly recommend this company and their products.
09/07/2021
Kacey W.

United States
Love these glasses!
This is my second pair of these glasses and I will continue to buy. So comfortable!
08/31/2021
Hannah R.

United States
Colored tent started rubbing off after less than a week of wearing them
I appreciate the warranty but I had to spend another $12 on shipping after not having sunglasses I spent $80 on.