Customer Reviews
Floatable Sunglasses
Visited the Corporate Store in WPB, FL. Excellent service and nice to see products hands-on. I purchased their newest product…. A floatable pair of sunglasses. I will definitely be enjoying this pair on the water and boating this summer.
04/20/2021
Malayna T.

United States
Warranty
So far My experience has been great! We love the style of the glasses you have to offer. My husband is very clumsy and broke a pair already. We were able to use his warranty and get a new pair ASAP. Mine I have had for about 7 months and they just broke the other day, I went on our account and realized my warranty code didn't go through. Customer service was so helpful on allowing me to register my glasses and work on getting them replaced.
04/12/2021
Leland M.

United States
Perfect
They look great and are super lightweight on the face.
02/09/2021
Judy L.

United States
Love The Look and Lens Color
I absolutely love the look and color of these sunglasses. I will say that they are fragile and break easy at the bridge due to the bamboo frames. I will probably buy anther pair as we enjoy boating and the frames float!
09/23/2020
Ralph C.

United States
An Extra Pair
This is my 3rd pair of Abaco's, I love them all and I really love the Castaway. Lightweight, yet very usable. I love the fact that they float, as I am on the water a lot. Great looking glasses, that fit perfect. I would highly reccommend.
09/22/2020
Bonner

United States
Best Ever - Will Always buy Abaco
I will always buy Abaco, Customer Service is the best and the glasses are slick, although the glasses I really wanted were sold out :-( Maybe next time.
07/21/2020
Jason S.

United States
So light, so stylish
These things are amazing. This is at least the 5th pair of shades I have purchased from Abaco. They are super lightweight, lenses are great, and 60 bucks. Can't beat that package, with a lifetime warranty. The castaway is so awesome, they cover your whole eye area, and sit nice and tight. I can take a motorcycle out with these guys in, and not lose them turning my head. The wood look is so different, people keep asking me, when they find out how inexpensive the plunge is, they go right on the website and find something immediately. Just buy these things already!
07/21/2020
Abaco Polarized
Thank you for the awesome 5 star review! We are a privately owned company that takes great pride in manufacturing high quality polarized sunglasses backed by a lifetime warranty at a great price. Please let us know if there is anything else that we can do for you.
07/13/2020
Matt B.

United States
Excellent Choice
Castaway shades are great. Comfortable to wear with a new frame design which better contours your face. Great style and like all Abaco lenses polarized for your outdoor comfort. Love the light weight and fact they float while in the water. Can't beat the lifetime warranty. Enjoy.
07/13/2020
Robert R.

United States
New Abaco shades
love the wooden frame shades, extremely comfortable for long haul. I have been wearing this brand for over 5 years now, a big fan.
07/06/2020
Matt S.

United States
Great Glasses
The lenses are great, frame is a little small on my face but the service is great.
02/26/2020
Melannie M.

United States
warrantee exchange
I bought the Abaco Avery sunglasses a few years back when I was on vacation in Florida. I love them! Actually, while on vacation my son and daughter bought a pair of Abaco sunglasses too. We are all big fans. I live in California so I wear sunglasses daily. The nose piece fell off and one of the lenses kept popping out. I submitted a request for a warrantee fix and I was so surprised when I received an email that said I would get a replacement pair. I am so happy to have this new pair and I am back to wearing them every day. The only negative was when I went to call in to the company as a follow up to an email I received from the customer service department it was difficult to find a number and the phone number that was listed with the name of the customer service person was incorrect. I also thought the person I spoke to was slightly annoyed with me, but I honestly was not expecting a full replacement pair of glasses, so it took me a second to understand. I thought I was going to be sending in my glasses to have them fixed. Thank you for the new pair. I am back to loving my Avery Sunglasses
01/02/2020
David R.

United States
Great sunglasses - even better service!
The first pair I ordered never made it to me - either the post office kept them or they were mistakenly delivered to a neighbour who thought they were too nice to deliedrv. Either way I called customer service and spoke with Alex who sent out a new pair right away. This was days before Christmas and the gift arrived on time. Just amazing! And the lifetime warranty is also great. The glasses look great and are nicely built. Look forward to wearing them everywhere. There is no reason not to by a pair!!
11/26/2019
Gerald R.

United States
Best Sunglass deal there is!
This is a great company selling an outstanding product. Easy to order. You get just what you expect. Process is fast, easy and fair!
10/29/2019
Adriane L.

United States
Color not like presented online
First of all, I love Abaco sunglasses and the company is fantastic. I just received these in the mail today and while the glasses themselves are great, the color is nowhere near what it looks like on the website. In fact, I wonder if I was sent the wrong color although the color code number seems to be correct. I am a bit disappointed but have to give a 4 because they are so super light and comfortable and fit my face well.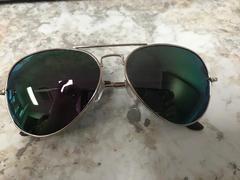 10/19/2019
LIsa G.

United States
Great mid price sunglasses
I love the fit of these glasses.
10/08/2019
Lauren G.

United States
Love Abacos
These are by far my favorite glasses that I have owned! I have two pairs and they last forever. And if something does happen, they replace them. Great company!