Customer Reviews
Write a Review
Ask a Question
11/30/2021
Christopher N.

United States
It was good
Only issue is registering the new glasses for the warranty
11/23/2021
Holly K.

United States
Making it right
I bought the glasses for my 11 year old. Of course, within 2 weeks, they were broken. Initially I had great difficulty getting any service. However, iit was an email issue. Abaco worked to find a way to reach me. Once we connected, the glasses were replaced under warranty with 2 weeks!
11/07/2021
Denise B.

United States
Kai
Love these glasses, they're very comfortable.
10/18/2021
Jason C.

United States
Kai Translucent Sand/Champagne Glasses
Not good, in fact these glasses were so reflective on the inside of the lens it made viewability impossible and is why I'm returning them. It's basically like having a mirror on the inside of the lens that allows you to see behind you but impedes what you want to see in front of you.
10/14/2021
Cynthia K.

United States
Cool Shades and Great Quality
Love the warranty process that ABACO does for clients. that is why I have several pair. Good investment.
09/17/2021
Amber G.

United States
Love my shades
Wonderful company and stands by the products
09/04/2021
Carol B.

United States
Excellent Customer Service & Glasses
These glasses are lightweight, stylish and have great lenses. I have issues with glasses being too heavy but these are perfect. One of the lenses had a problem and they were replaced promptly. Customer service and sun glasses are so great that I ordered another pair in a different color. Highly recommend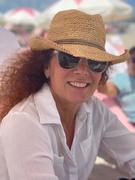 08/31/2021
Alycia C.

United States
Great Glasses
These sunglasses are light and fit really well. I love the mirrored look and the color is great. Only minor complaint is when sun shines from behind me, I can see my eyes reflecting off the back of the glasses. Otherwise, love!
08/22/2021
Lu A.

United States
Excellent Company
The glasses are really nice. My face is a bit small for them, but that isn't the glasses fault! Great company. They really care about their customers! Will definitely buy again. Thank you so much!
08/10/2021
Sherry P.

United States
07/28/2021
Colby D.

United States
Warranty
This was amazing, so easy to get my new pair after the old ones were damaged. I don't need any other brand of glasses ever!
07/28/2021
Joseph W.

United States
Aback Kai
Fantastic very easy
07/14/2021
Steven K.

United States
Great quality, price and optics.
The only thing that matches the quality, price and optics is the customer service.
06/24/2021
Thomas C.

United States
Great customer service
customer service was very good.
06/07/2021
Kristin G.

United States
Disappointed in quality
I life the fit and look of these sunglasses. Unfortunately there is a thin coating that has been peeling off of the glasses starting about a week after I got them.
05/12/2021
Margaret S.

United States
Excellent
This company has the best sunglasses I've ever owned