Customer Reviews
06/04/2021
EVELYN L.

United States
Very comfortable!
Put these things to the test for a week of on the water fun. They fit great for a wide face like mine. It's hard to find sunglasses that actually work for me but these were great! Lightweight, nice color. The color looking through the lenses is a dark or black lens. I do prefer colored shades but just a person preference. The "black rubber" coating on the frames feels non-slip on your face, even with sunscreen. I don't know if that was the intention but it seems to work. Coatings on the frame of sunglasses aren't my favorite, in my experience it will rub off over time and with a little bit of extra exertion on the parts. It's already peeling a bit from the sunglass keeper strap. Nothing too serous, but it might be something you'd like to consider if you are going to used these more then the average pair of shades. Overall... I like them. :) And for my fishing trip they have not left my face or head in a week.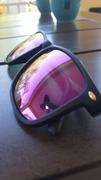 05/29/2021
Matthew G.

United States
Amazing!
Love the glasses and had great service ordering them. My friends have already bought pairs sense and we may be getting more with the memorial sale deal! Thanks to Greg for making it super easy to contact you guys quickly.
05/20/2021
Justice H.

United States
Love these!
Great sunglasses that dont break the bank. Can't beat the guarantee either
05/03/2021
Garrett A.

United States
Light and clear
Very beautiful set of sunglasses. Fit my face well, feel light, and the picture is clear.
04/15/2021
Robert A.

United States
Excellent
My wife absolutely loves them. We love Abaco sunglasses.
03/19/2021
Greg M.

United States
Always great.
I have bought many pairs of glasses from abaco. I love the glasses and they are great at honoring the warranty if/when you break them. I will continue to buy from them
02/03/2021
Dominique H.

United States
Purchase of new pair of sunglasses
Was a great experience through and through
01/27/2021
RYAN D.

United States
Abacos Rock!
Great love you guys
01/04/2021
Erin B.

United States
Great glasses
Awesome, love both sunglasses I have received so far. I have one more on the way
11/30/2020
Kimmi D.

United States
Great gift
Super, another great pair
11/20/2020
Cary K.

United States
Lovin' shades
Fab. Love the view
10/20/2020
MM
MAry M.

United States
Awesome
I love them they are my favorite
10/08/2020
Elizabeth B.

United States
Cool sunglasses!
I have two pair of Jesses, one in blue and the other in orange. Love them both. Great look, great protection, great fit.
09/30/2020
Susan C.

United States
Great Sunglasses for a Reasonable price
I haven't had them very long but so far they have performed Well. I like the fact that the Lenses are Dark & Clear which keep me from squinting in the Sun and the frames are sooo lightweight, love them!
09/22/2020
Stephen H.

United States
Wow
What a nice pair of glasses for an affordable price. Definitely worth the try!!!! To be nit picky I would like them to feel a little more weighty but they do seem to be strong so far.
09/18/2020
Megan C.

United States
Plastic feels cheap
I had the Jesse pair previously and they broke. I got a replacement pair but they are made of plastic and they feel extremely flimsy and cheap and I'm worried they will break sooner than the last.