Customer Reviews
Write a Review
Ask a Question
03/11/2023
Elicia H.

United States
Awesome customer service
You guys were amazing from the first email I sent to letting me know about delivery. I really appreciate it.
12/23/2022
Paula W.

United States
Sunny…..
I was very please with the sunglasses and style. Customer service representative was a pleasure to work with.
11/13/2022
Rylie W.

United States
Love them!
Really like my glasses, also had to do a claim on them after they got damaged. Got my replacement pair within a week! Very happy with the glasses and company!!
09/04/2022
Fatima F.

United States
08/02/2022
michele m.

United States
Love my Zoe
I had a great experience with Abacoa I will definitely be purchasing another pair
07/27/2022
Charlene O.

United States
I love them
I feel very comfortable and fashionable
07/20/2022
Joanna E.

United States
Replacement success!
I uploaded the photos and submitted a claim. Timely response and new shades fast. Thanks, Abaco. Love the brand and would definitely purchase again.
05/02/2022
Katrina L.

United States
Amazing customer service
Their warranty is actually true and easy to process if you need to! Love the glasses too
03/07/2022
Patrice H.

United States
Loyal Customer for Life!
I absolutely love the Abaco sunglasses. I can't get enough of them and I have turned my family members and friends onto this brand. We loved their warranty as well. It is a wonderful company and they produce a quality product. I just purchased another pair a week or two ago!! The styles keep getting better and better. I get so many compliments on my sunglasses!!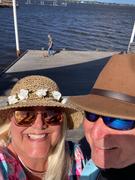 01/31/2022
Lindsey R.

United States
Love my Abacos!
I love my sunnies. However I lost my pair this past weekend. I have to order another pair. I cannot live without them!
10/21/2021
Ashlyn S.

United States
Love these glasses! They are so comfortable.
Great! Super comfy and fits my face well.
Free Shipping Over $75 + Free Returns